Featured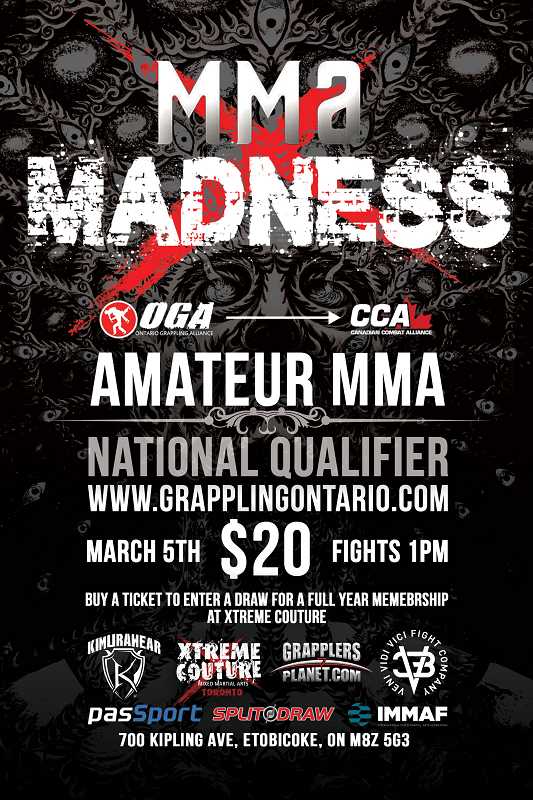 BY POPULAR DEMAND!! Here is your Final Chance to Qualify for the Canadian National Team Trials, and to hold the True Ontario Provincial Amateur MMA Title!
On March 5th, 2017, MMA Madness will be hosting the Amateur MMA National Qualifiers in Toronto at Xtreme Couture.
Athletes Qualifying from this event will compete for the CCA National Title in Lethbridge, Alberta to become participants at the IMMAF World Championships 2017 in Bahrain. as part of the Prestigious Canadian Amateur MMA Team headed by non-other than the legendary Bill Mahood and Lee Mein!
Team Ontario will qualify the TOP two (2) from each MMA weight class to travel to Alberta.
Participants who already Qualified from the Provincial Championships in January will be accepted into the Canadian National Championships..Event Price: $65 - Includes full year OGA Membership!Register Now! Only four (4) competitors will be permitted to compete at the National Qualifiers, per weight class.
ABOUT
OGA is dedicated to developing Grappling, Pankration/Sport MMA, and Amateur MMA.  in Ontario. Our goal is to facilitate growth of grappling through raising participation and the level of competition as well as certification of trained officials and coaches under the OGA guidelines.

OGA offers insurance coverage for members, and member clubs. We strive to enhance club convened events by providing help in any way; including promotion, registration and hosting.

Clinics are provided by the OGA for Officials interested in certification for  all the associated styles. Please check our links for Clinics to check for the next available session in your region.

Contact us for request on providing clinics and certified officials at your next event.
read more
9870 St Vincent Place, Glasgow, DC 45 Fr 45. 800 2345-6789